If you are planning your Polia Boishakh food menu, then you have reached the perfect place. Let the Bengali New Year celebration menu be an epitome of gastronomic delight. In this post, I will give you ideas on how to plan the best poila boishakh menu by recreating some of the most popular Bengali restaurant-style ranna recipes at home.
Poila Boishakh or the first day of the month of Boishakh marks the beginning of the Bengali new year. It usually falls on the 14th or 15th day of the month of the April in the Gregorian Calender. A number of Indian states in the eastern region of the country observe national holiday on this date.
In recent times, this day is celebrated for its cultural heritage. Bengali families observe this special day by performing a spring cleaning of the house before refurbishing. New attires are worn and the greeting of শুভ নববর্ষ "Shubho Noboborsho" is exchanged between family members and friends. Many businesses perform the ritual of 'haal khata' whereby a fresh ledger is prepared for the upcoming new year by closing the accounts of the old ledger of the previous year. They also distribute sweets and refreshments to their employees, vendors, loyal customers and patrons to mark this day.
Special Bengali ranna banna (cooking) is done in order to present an exquisite poila boishak meal. Friends and family is often invited so that everyone can sit together and enjoy a hearty meal on the first day of the year. In this article I have compiled all the popular Bengali ranna recipes that you can try for your poila boishak special menu.
Let's Plan the Ultimate Poila Boishakh Celebratory Menu
Bengali festivals are often about good food and special meals shared with friends and family. So, the celebration begins right from the morning with a special breakfast table. Here are couple of popular Bengali breakfast recipes from my Blog.
Bengali Breakfast Menu
The combination of Luchi-Cholar Dal as well as, Luchi-Aloo Dum are very popular for the breakfast meal. Both of these combinations are vegetarian and are perfect to begin the day with.
Bengali Chana Dal Recipe | Cholar daal
This Cholar Dal recipe is no-onion, no-garlic vegetarian recipe which is traditionally a Bengali breakfast dish. Completely Glutenfree & vegan lentil recipe
Check out this recipe
Bengali-style Aloo Dum Recipe
This Aloo Dum recipe is one of the most popular Bengali dishes, often made on a repeat as a breakfast dish served with Luchis. It is a simple potato curry with a dry gravy made of ginger, tomato and a handful of spices & can be made within 30 mins flat.
Check out this recipe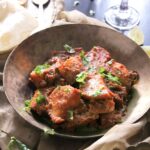 Bengali Appetizer or Snack Menu
Bengali New Year or Poila Boishak is often celebrated by welcoming guests and offering them food. It is customary to offer a meal to the guests and while they are waiting for that, snacks or light refreshments can be served along with tea. These Bengali snacks recipes can be both vegetarian, as well as non-vegetarian. Here's a couple of the most popular Bengali snacks recipes.
Dimer Devil | Egg Croquette Recipe
Dimer Devil, also Egg Croquette is a very popular Indian street food, particularly famous in the eastern states of India. Here, hard-boiled eggs are cut in halves, the yolk is mixed with a spicy mix and then stuffed back into the egg whites. The egg halves are then joined and coated with a keema or potato cover and battered fry.
This dimer devil is a Bengali style evening snack, often served with a bowl of puffed rice, sliced onion, green chillies and a cup of tea.
Check out this recipe
Kolkata Fish Fry Recipe
This Bengali Fish Fry is popular street food from Kolkata, that hardly needs an introduction. Beautifully carved Bhetki (Barramundi or Seabass) fish fillet, marinated in onion, ginger, garlic & chilli juice before dipped in an egg wash & breaded for frying them to perfection.
Check out this recipe
Aloo Chop Recipe | Bengali Potato Fritters
Aloo Chop is a deep-fried snack where a patty of spiced mashed potato is dipped in a batter before deep-frying. It is a popular evening snack, often served with a bowl of muri or puffed rice, sliced onion and a couple of green chillies.
Check out this recipe
Bengali Lunch Menu
The lunch menu for Poila Boishak has to be extravagant and elaborate, especially if you are entertaining guests. In such cases, both fish and meat dishes are served along with a minimum of two other side dishes. These can be a dal and a vegetable-based side dish. These get served with rice or pulao. To wrap up the meal, there would be a chutney, often made with seasonal fruits like kancha aam (unripened green mango), kuler (Indian Jujube berries), anaras (pineapple), or pepey (green papaya).
There would be a serving of doi or yoghurt, either fresh or sweetened, along with mishti or Bengali sweets. Both of these may or may not be homemade.
Here's couple of my top favourite Bengali ranna dishes that I like to serve for Poila Boishakh.
Basanti Pulao | Bengali Sweet Pulao Recipe
This Basanti Pulao or Bengali Sweet Pulao recipe is fit for festive celebratory meals. Cook it in a jiffy and make your guests feel special.
Check out this recipe
Ilish Maach Bhaja & Bhapa Ilish│Bengali Fried Hilsa & Steamed Hilsa Curry Recipe
This is a typical Ilish Maach meal where you can see Ilish Maach (Hilsa Fish) cooked and served in 3 ways, Ilish Maach Bhaja (Hilsa Fry), Ilish Maach er Tel (Hilsa Fish Oil) & Bhapa Ilish (Hilsa Fish steamed in Mustard Sauce). You can get the recipe for Bhapa Ilish and the rest of dishes here.
Check out this recipe
Microwave Bhapa Chingri Recipe – Indian Prawn Curry
Bhapa Chingri is the Bengali way of steam cooking of prawns in mustard gravy. In this recipe article, I have shared how to make bhapa chingri in microwave oven with just a handful of ingredients. This recipe hardly needs 5 minutes of preparation and another 5 minutes of cooking, so with 15 minutes, you have a hearty and delicious prawn curry recipe ready. Perfect for busy weeknight dinners.
Check out this recipe
দই মাছ | Doi Maach | Bengali Fish Curry with Yogurt Sauce
Doi Maach is a Bengali delicacy which often marks a special meal. It is often a part of celebratory meals which includes other special Bengali dishes like Pulao, Mutton Kosha, Biryani or the likes.
Check out this recipe
Kosha Mangsho Recipe | Bengali Mutton Curry Recipe
Kolkata-style kosha mangsho recipe, which is essentially a spicy dry goat meat curry, and serve it with some rice. If you want to take the game up by few notches then make the combination of luchi-kosha mangsho, and you would find the Bengali going weak at his knees.
Check out this recipe
Bengali Chicken Rezala Recipe
Best thing about dishes like Chicken Rezala recipe is that it basically includes very simple ingredients which completely make it perfect for festive cooking over busy weekends. It's a simple one-pot recipe which goes so well with rice, paranthas (Indian breads) or simply with rotis.
Check out this recipe
Khada Masala Chicken Curry Recipe
Chicken curry cooked with Khada Masala or Indian whole spices
Indian spices can be your most trusted friend in the kitchen, only if you learn its temperament. Every spice is different and when used in combination, can give you a flavour bomb to your dish. This chicken curry recipe is cooked with such delectable choice of Indian spices which takes this recipe to a whole new gastronomic level altogether.
Check out this recipe
Enchor er Korma | Kathal Korma Recipe
Young Jackfruit Korma | Enchor er Korma | Kathal Korma
This Enchor er Korma recipe is a delicious and mildly spicy curry recipe that goes amazingly well with Indian breads like Chapatti, Naans, as well as, rice dishes like Jeera Rice, Peas Pulao, etc. Once you try this young jackfruit curry recipe, there's no going back! Known as kathal in India, this unripened jackfruit recipe can give many meat based recipes a run for the money.
Check out this recipe
Chanar Dalna Recipe | ছানার ডালনা রেসিপি
One of the most popular Bengali Vegetarian recipes, this ছানার ডালনা রেসিপি Chanar Dalna is quite a common affair in a Bengali household. Jewel of Bengali food, this is a no-onion, no-garlic Niramish ranna recipe which uses chena or paneer koftas in a curry.
Check out this recipe
Bengali Mishti Menu
Traditionally, the sweetshops of Bengal come out with special sweet dish offerings for special occasions like this one, Poila Boishak. However, if you are like me, staying beyond the borders of Bengal, here's a couple of the most popular Bengali sweets recipes that can be made easily at home.
Bengali Sweet Pantua Recipe
Pantua recipe, much like other recipes of Bengali sweets, is a milk sweet dish where cow's milk, in particular, is curdled to get some cheese which in turn gives these scrumptious sweets.
A very popular variety of sweet at a Bengali mishti'r dokan (Sweet shop), Pantua is a kind of Indian doughnut, hailing from the eastern parts of the country. Here, fresh cottage cheese is kneaded into a dough using a touch of flour, before dividing into balls for deep frying and then dipped in sugar syrup.
Check out this recipe
Pranhara Sandesh Recipe
Pranhara or Kancha Golla is a variety of sandesh, a Bengali sweet dish which is widely popular for its simplicity and melt-in-mouth taste. Like most Bengali sweets, it is also made with fresh cottage cheese of cow's milk or chenna, a bit of condensed milk and a couple of drops of rose extract.
Check out this recipe
Lobongo Lotika | Bengali Sweet Bhaja Patishapta Recipe
Lobongo Lotika, also known as Laung Latika is a classic Bengali sweetmeat where a pastry dough envelops a stuffing made of milk solid known as kheer. The folds are sealed using a lobongo or a clove before they are deep-fried and dunked in thick sugar syrup. This Bengali sweet recipe of lobongo lotika gives you the perfect crunchy texture on the outside with a juicy and rich centre.
Check out this recipe
To end the meal on a sweeter note
Bengali Tomato Jelly Chutney Recipe
This sweet Bengali tomato chutney is perfect when you have season's fresh tomatoes flooding your local farmer's market. You can quickly turn a big bunch of ripe tomatoes into this delicious tangy yet mildly spicy tomato chutney. This tomato jelly has a very good shelf life so that you can enjoy a spoonful of this for next couple of weeks.
Check out this recipe
Khejur Gurer Chaler Payesh | Bengali Rice Pudding with Date Palm Jaggery
This khejur gurer payesh is somewhat a winter delicacy, especially made during the Sankranti when the date palm jaggery is available in the markets. So, around 15th of January, you will see most Bengalis making a variety of delicacies using the season's fresh khejur gur, including this chaler payesh.
Check out this recipe
Have you tried these recipes? I would love to hear about it.
Tag me on Instagram @priyankabhattacharya.sa or Facebook @hashdiaries and I will share it further.