This Stir-fried Okra or fried Bhindi recipe is a simple yet delicious vegan side-dish recipe which pairs well with hot-off-the-griddle chapatis or Indian Rotis. Bhindi or Okra is a very popular summer vegetable in India and is hugely preferred by those who prefer vegetarian meals.
This simple bhindi recipe needs some time and patience but in the end, gives a delicious dish for weekday dinners. Like several other Bengali recipes, this is completely gluten-free, dairy-free & nuts-free.
Okra or Bhindi or Lady Finger is an excellent source of essential vitamins and minerals. Additionally, bhindi has dietary fibres which are good for gut health too. Below is the blog post where you will find the recipe laid out in detail. However, if you are in a hurry then you can click "Jump to the Recipe' above and read a more concise version of it on the recipe card.
In this post, I have shared some tricks & tips on how to manage the sliminess of okras in your recipe along with the recipe for bhindi fry.
Benefits of including Okra or Bhindi in daily diet
I believe, eating seasonal fresh vegetables is a major aspect of eating healthy. Okras or Bhindis (also known as Lady's Finger) are available throughout the summer months of April to September, even till later.
In South-East Asian countries like India, Bhindi is very popular, mainly because it is nutrient-dense and abundantly available. It is rich in vitamins and minerals such as calcium and phosphorus and also comprises a high percentage of dietary fibre.
This crispy bhindi fry recipe is my family favourite. Needs a handful of ingredients and some time on your hand to bring together this delicious bhindi masala recipe. It has a delicate flavour of ginger and green chillies and goes amazingly well ghee slathered soft Indian Rotis. This bhindi fry recipe is the perfect dinner side dish recipe idea to go with chapattis or Rotis.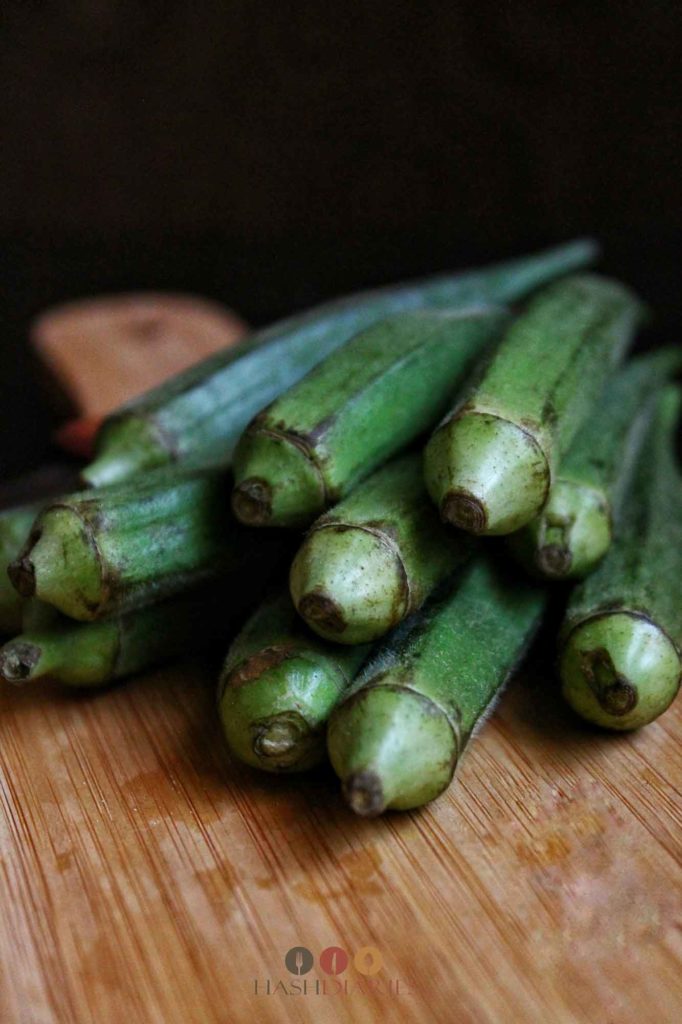 Why you will LOVE this easy Bhindi bhaji or stir-fried Okra recipe?
Fresh & Seasonal Ingredients. Okras or Bhindi is abundantly available in summer. Which means throughout the better part of the year. So, this bhindi fry recipe is an excellent way of including local and seasonal produce in your meals
Comes together in no time. If you need a simple side dish to jazz up your meal then this easy bhindi ki sabji recipe is your answer
Simple & pantry staple ingredients. All you need to get is some fresh okras or bhindi, a couple of onions and ginger. Simple ingredients which give a delicious dish
Perfect side dish recipe to go with rotis or with rice & dal.
Tips & Tricks for Making Bindi or Cooking Okras
Okras or Bhindis are quite infamous for their sliminess. Often people find themselves in a difficult position while prepping this vegetable. With the following tips & tricks, it should be easier for you to cook this vegetable next time.
Always wash the okras or bhindis before chopping them. Give them a thorough wash and spread them over a dry kitchen towel. Let them dry completely before you start chopping them
Before chopping, rub some oil on your chopping board and oil to avoid stickiness
During cooking, do not add water. The sliminess is due to the soluble mucilage which will become worse upon the addition of extra water
Do not add salt at the beginning of the cooking, otherwise, it will become slimier
Always add something acidic in nature to reduce the sliminess, for instance, lemon juice, vinegar, tomato puree, etc.
How to make Stirfry Bhindi recipe – Ingredients list
Bhindi or Okras – – for a meal for 3 people, you will need at least 500 gms of the vegetable as it shrinks a lot during cooking
Onions
Ginger
Green Chilies
Mustard Oil – alternate would be any other oil
Lemon Juice – alternate would be vinegar
Salt
Step-by-step instructions for this Bhindi Masala recipe
Slice the bhindis as thin as possible. Discard the heads and then slice up the entire body of the veggie. Finely chop the Onions and grate the ginger
Heat some mustard oil in a wok or kadhai and add the sliced bhindi or okra, onion and ginger
Give everything a good stir and let it cook on medium heat
Once you see the bhindi or okra soften up a bit, add turmeric powder and chopped green chilli
Keep frying them till they reduce and turn dark brown in colour
At this stage, it won't be slimy at all so now you should add salt. Give it a very good mix and turn off the heat.
Drizzle some lemon juice and serve hot with hot rotis or chapatis, or dal & rice
A list of a few more Indian vegetarian recipes from my Blog.
Have you tried this recipe? I would love to hear about it.
Tag me on Instagram @priyankabhattacharya.sa or Facebook @hashdiaries and I will share it further.
Bhindi Bhaji | Bhindi ki Sabji Recipe
This Bhindi Bhaji or Stirfried Okra recipe is a simple yet delicious vegan side-dish recipe which pairs well with hot-off-the-griddle chapatis or Indian Rotis. Bhindi or Okra is a very popular summer vegetable in India and hugely preferred by those who prefer vegetarian meals.
Keyword:
Bhindi Recipes, Gluten Free Recipes, Indian Side Dish Recipe, Ladyfinger Recipes, Okra Recipes, Vegan Recipes, vegetarian recipes
Ingredients
250

gms

Bhindi or Okra

Finely sliced

1

Onion

large, finely chopped

1

inch

Ginger

Grated

2

Green Chilies

Finely Chopped – adjust as per taste

4

tbsp

Mustard Oil

Salt as per taste

2

tbsp

Lemon Juice
Instructions
Finely chop the Okras, Onions and Green Chilies and keep them aside.

Heat oil in a pan and add the okras or bhindi, onion, grated ginger and green chilies.

Keep the heat on medium-high and fry everything together. You will notice some sliminess in the beginning. However, as you continue cooking for the next 4-5 minutes, the sliminess will reduce.

Keep stirring the okras and spread them in the pan so that there's uniform frying.

Once you see that they have softened and there's no sliminess, add salt.

Turn off the heat and add lemon juice. Mix everything well and serve.
Recipe Video
This post was first published on February 22, 2018, and later republished on March 31, 2023 with new images and a more elaborate description of the recipe.