This Naan Tacos recipe with Chicken Tikka as taco topping brings Mexican and Indian food right at one place. A dish that came out as an answer to emergent cravings for tacos, has now become a regular on our dinner menu.
My Chicken Tikka Tacos is very simple to put together. All you have to do is grill some chicken in Indian tikka masala, and then stuff them inside these pillowy soft Instant no-yeast Naans along with sliced onions, tomatoes and some freshly made Mint Coriander Chutney.
How to make the Chicken Tikka Naan Tacos ahead of time?
Best thing about this recipe is that you can make it for your weekend brunches and get-together with family & friends. Marinate the chicken in Tikka Masala or any other dry spice rub you have on your hand, a night before. You can also make the Naan breads ahead of time and keep them packed in foil-packs for later.
On the day you are planning to serve, grill the chicken while you work on the salad. Warm the Naan breads with a light slather of butter to soften them even more, and there you have it. Chicken Tikka Tacos ready to be blow your head off with its awesomeness.
How to make Chicken Tikka at home?
The essence of making Chicken Tikka lies in the fact that it is cooked over hot charcoal in a clay grill. Chicken pieces are marinated in spices mixed with yogurt and then grilled over a slow heat.
The spices used are pretty basic. So whether you are into avid cooking of Indian cuisine or indulge occasionally, I am sure you will have most of these in your pantry.
Cumin Powder
Coriander Powder
Turmeric Powder
Red Chilli Powder or Paprika
Garam Masala Powder – alternate would be All-spice mix powder
Salt
Amchur or Dry Mango Powder – alternate would be Lemon juice
Mustard Oil – alternate would be EVOO or any other oil
Ginger – grated. Ginger Powder would also work
Garlic – grated. Garlic Powder would also work
To make the Naan Bread Tacos, I have used my super fool-proof, quick & easy naan recipe without using any yeast here. But if you aren't in a mood to make, I totally get you. No judgement here, instead I am going to give you easy alternatives to that as well.
Pita Bread
Tortillas
Flour Tortillas
Lettuce, in case you are counting calories
Dosa, Indian rice & lentil crepe. A very healthy gluten-free option
How to serve these Chicken Tikka Tacos?
Here, I served these Chicken Tikka Masala Tacos with spicy Mint Coriander Chutney. It is quick and easy and absolutely instant to make. Just throw in a bunch of fresh mint leaves, coriander leaves, some chopped onion, tomato, spices and a dash of lemon juice. You are set to make these Chicken Tikka Naan tacos even more delicious!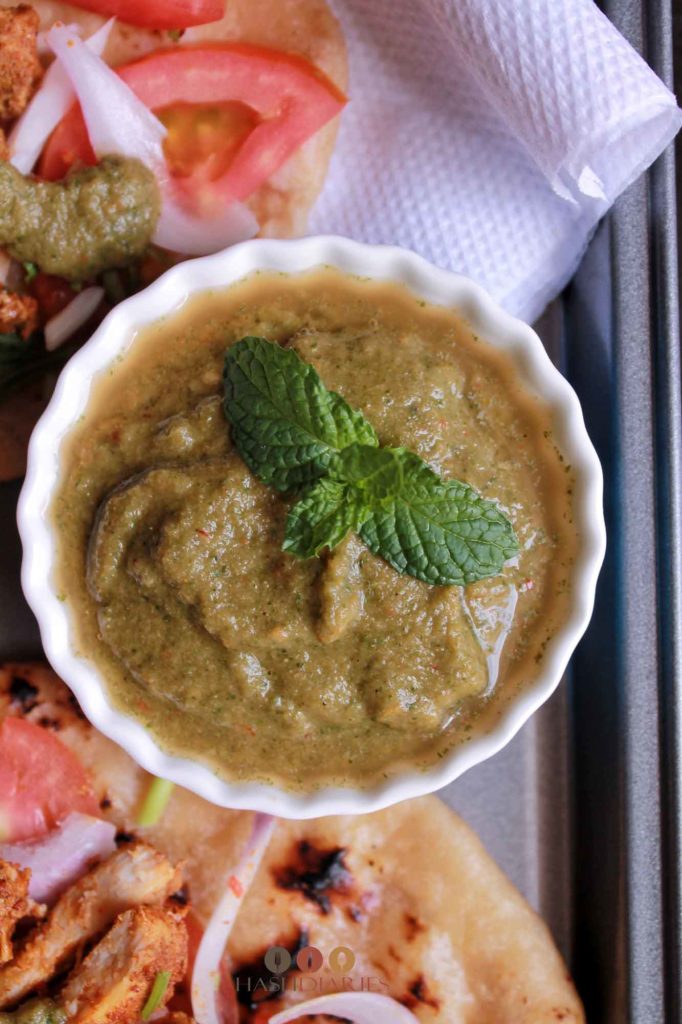 If you like your tacos hot, then you can also try my Green Chilli Hot Sauce. It will pack a punch to those already delicious chicken tikka tacos!
You can whip up a Yogurt dip with spices and lemon juice if you want to cool down your taste buds a bit.
Here, I am giving you the recipe for making the Chicken Tikka topping for your Chicken Tikka Masala Tacos.
Have you tried this recipe? I would love to hear about it.
Tag me on Instagram @speakingaloud_hashdiaries or Facebook @hashdiaries and I will share it further.
Chicken Tikka Naan Tacos Recipe
This Naan Tacos recipe with Chicken Tikka as taco topping brings Mexican and Indian food right at one place. A dish that came out as an answer to emergent cravings for tacos, has now become a regular on our dinner menu.
Keyword:
Chicken Recipes, Chicken Tacos Recipe, Naan Tacos Recipe
Ingredients
4

Chicken Breast

1

tsp

Cumin Powder

1½

tsp

Coriander Powder

½

tsp

Garam Masala Powder

½

tsp

Red Chili Powder or Paprika

Salt to Taste

½

tsp

Turmeric Powder

1

tbsp

Ginger Paste

1

tbsp

Garlic Paste

1

tbsp

Yogurt

1

tsp

Mustard Oil
Instructions
Mix all the ingredients and rub the chickens nicely in a glass or ceramic mixing bowl. Cover it and let it marinte for at least 4 hours.

When you are ready to grill them, pre-heat your oven. Place the marinated chicken breast pieces on a baking tray lined with parchment paper. Pour the marinade mix over the chicken.

Grill it for at least 30 minutes at 180c or 375F. Check if done by slicing one fo the pieces at the centre. Grill for additional 10minutes if undone.

Take them out once done and allow to cool down a bit before slicing.

Arrange your Naan Tacos and Salad toppings for your Chicken Tikka Tacos. For ideas, check the blogpost.

To assemble the Tacos, place the sliced onion, tomatoes and herbs. Now, Slice each of the grilled Chicken breasts and place them on top of the salad. Top this with your favorite chutney or dip. For ideas, check the blog post
📌Pin this Chicken Tikka Naan Tacos recipe for later!