Gujarat Weekend Destination: Diu
Diu is a very popular weekend getaway destination among the bhais and bens of the westernmost city of our country, Gujarat. Unknown to many, Gujaratis are very fond of travelling and they would always prefer spending their weekends travelling, rather than sitting around at home. With such outgoing personality, they are always on a lookout for getaway destinations and Diu features as one of the most favorite places in their lists.
How To Reach Diu?
Every major city of India is very well-connected with Ahmedabad with the Sardar Vallabhbhai Patel International Airport. From there, it takes around half a day of road-trip to reach this island town by car. 
History of Diu & Diu Fort
Prior to its annexation in 1961 by the Government of India, it was a Portuguese territory whose deep influence can be seen throughout the island. Some of the coastal cities of India like Goa, Daman & Diu were Portuguese enclaves for over 4 centuries before they were incorporated in the Republic of India. 

One of its major tourist attractions is the Diu Fort, which was built back in 1535 by the Portuguese settlers. Majestically overlooking the Arabian Sea, this fort housed the Portuguese Center of Power for over 4 centuries in Diu.
This lime and mortar fort, although now in a sorry state of ruins, attracts thousands of visitors every year. Those who have a penchant for photography and some knack for historic forts, it is a haven for them. Once inside you will find a curated collection of possessions of erstwhile Portuguese colonial residents. For instance, one section displays the collection of canons which were probably used to protect the fortified building from the invaders. The strategic location of this fort required the Portuguese settlers to protect it from incoming invasions from both land as well as sea. Although in a dilapidated state with no overhead structure to protect the canons from weathering effects, this armory puts forth a sight representing the power of Portuguese settlers.
While a majority of the fort is managed and controlled by the Archaeological Survey of India, a small portion of this structure houses the sole jail of this island. Diu island is said to be one of the most peace-loving places of the country and the fact that the jail has only two inmates at the time of our visit seems to be a solid proof of that!
Apart from this there is are several other structures in the premises of this fort like a warehouse, Prayer Building, Mortuary or a Building to keep the bodies of the dead before they were taken back to their native or until their cremation could be done while their folks were sailing back from home. There is church as well in this compound which is no longer in use. 
Inside the compound of Diu Fort there lies a, now defunct, lighthouse which still majestically stands overlooking the tides of Arabian Sea. A steep hike up a small hillock and you can savour and enjoy the breathtaking views from the base of the lighthouse.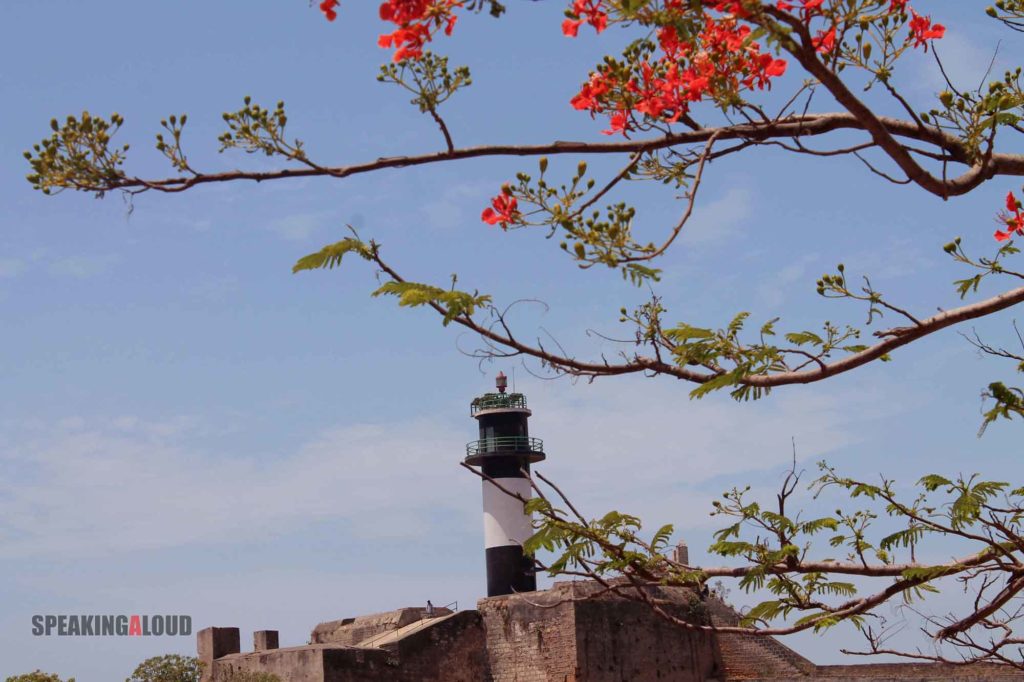 When To Visit Diu Fort?
Situated on the western coast of Indian sub-continent, the climate of overall pleasant throughout the year. However, it would be advisable to avoid the monsoon months of June to September for greater convenience in sight-seeing. 
So, if you want to enjoy some laid back moments on the beach with a majestic view of the Arabian Sea to look upon  along with some historic remnants of the erstwhile Portuguese rule and enjoy a bottle of Feni or two, then without much delay make a trip to Diu Islands. For some authentic Portuguese Food in Diu Island, visit O' Coqueiro Restaurant.