I made this Number 2 Birthday Cake for my daughter's birthday and I must say that this only looks intimidating, otherwise it is super easy to make at home. Here, in this post, I will tell you how to make a number 2 cake without needing a special tin.
I have used my simple and absolutely fool-proof vanilla sponge cake recipe which I have included below. You can use any of your favourite sponge cake recipes to make the base of this number 2 cake.
Below you will find step-by-step instructions on how to cut and assemble a number cake.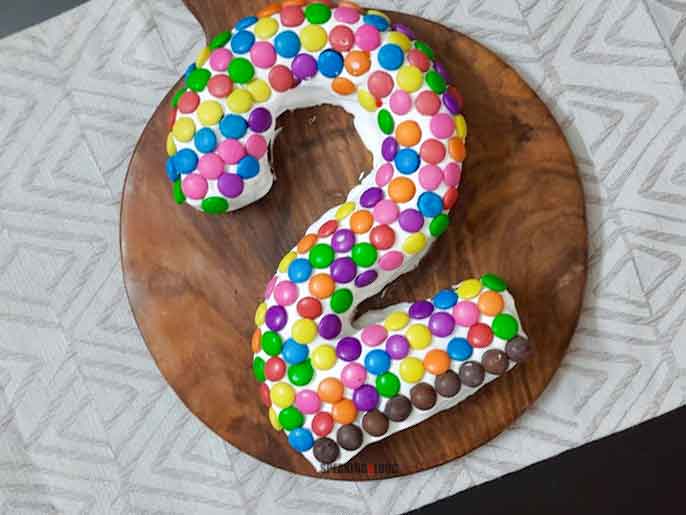 Buying a number 2 cake pan doesn't make much sense unless you own a bakery or are a homemaker. In my case, I needed some easy cutting hacks to make number 2 birthday cake designs. So, I started searching through Pinterest for some inspiration. You can check out the Pinterest Board here.
Basically, you need a Round Bundt cake pan and a Square Cake Tin to assemble a neat number 2 birthday cake. In case you don't have a bundt pan, you can use a round cake tin and cut out the centre using a big cookie cutter or a bowl or a glass.
Here are step-by-step instructions on how I made this number 2 birthday cake at home.
I will tell you how to make a number 2 cake without needing a special tin. I have used my simple and absolutely fool-proof vanilla sponge cake recipe which I have included below
Baking the base cakes for a number 2 birthday cake

Bake 2 cakes, one in a Bundt Pan and another in a Square Cake Pan. Using a serrated knife, level the cakes so that they are of the same height. Remove the top parts of the cake.

Cutting the cakes into a number 2 shape

Prepare a number 2 template for cake by outlining the bundt cake pan on a piece of paper. Cut it out as shown here. Now, use this stencil to cut the cake. Measure the width of the round cake and use this to cut a rectangular piece off the Square Cake.

Assembling the number 2 cake

Invert the quarter and place the rectangular piece under it to make the number '2'. Use toothpicks to hold the pieces of the cake together, if needed. Drizzle some milk to moisten the cake, before it is crumb coated and frosted.
For crumb coating, I have used a basic Buttercream Frosting recipe. It is nothing but a frosting made with 1/4 cup butter, 1 cup confectioner's sugar, a splash of heavy cream and 1tsp of vanilla extract.
And finally, the frosting is made of dairy-free whipped cream with a touch of Vanilla extract decorated with some Cadbury Gems. You can use fondant to decorate the cake if you wish to. In that case, you can skip the whipped cream frosting and use fondant right after crumb coating. Use fondant cutouts to decorate the cake as per your wish.
This is an absolutely easy and totally diy number 2 cake for a busy mommy who is planning the second birthday for an active toddler. With a little bit of planning and timely execution, this cake can come into its form with very little effort. I baked the base cakes the previous night and assembled it on the morning of the birthday.
This number 2 birthday cake can easily feed a party of 8-9 people.
How to make this Number 2 Birthday Cake – Ingredients List
All-Purpose Flour
Cornflour
Refined Oil – any refined neutral oil such as Sunflower Oil, Canola Oil, etc.
Granulated Sugar
Baking Powder + Baking Soda
Whole Milk
Vanilla Extract
Eggs
Garnishes like Sprinkles, Gems, M&Ms, etc
Whipped Cream
Here, I am sharing the recipe for the Vanilla Cake I have used here. You have to use this recipe twice to make 2 cakes to prepare the number 2 cake.
I have used this Vanilla Cake recipe on multiple occasions to make brilliant desserts. Here's a list of those for you:
Have you tried this recipe? I would love to hear about it.
Tag me on Instagram @priyankabhattacharya.sa or Facebook @hashdiaries and I will share it further.
Homemade Easy Vanilla Cake Recipe
I often say that Vanilla Cakes the "Clean Slates" of the baking world. It is that canvas which can be turned into a masterpiece with your creativity. This Vanilla Cake recipe is even easier than baking those boxed cake mixes. And way cheaper as well. Why waste money when you can master this basic vanilla cake recipe and modify it into million ways for a different cake every time you bake? Here, I will tell you why you should stick this easy homemade vanilla cake recipe to your fridge because you can make so many different types of desserts using this basic cake recipe.
Course:
Breakfast, Dessert
Keyword:
Cake Recipes, Vanilla Cake Recipe, How to bake a Vanilla Cake
Ingredients
1

cup

All Purpose Flour

With 2 tbsp of it replaced with equal amount of Cornflour

1/3

cup

Refined Oil

1/3

cup

Granulated Sugar

1

tsp 

Baking Powder

¼

cup

Milk

1

tsp 

Vanilla Extract

2

Eggs
Instructions
Take a bowl and mix all the dry ingredients together. Sieve them through and keep them aside.

Now, in another bowl, whisk the eggs with a pinch of salt, till light and almost 3 times in its volume.

Add oil and vanilla extract to the eggs and whisk them vigorously till light and airy.

Now, add the dry ingredients in three parts, alternating with milk and mix gently. Once you see that the dry ingredients have incorporated nicely, stop mixing.

Now, pour the batter in a slightly oiled and floured cake tin and bake it at 180c for 30-40 minutes. Once you see that the cake has baked and the sides are pulling back from the edges, you know that it is done.

Take it out and allow it to cool in the cake tin for 10 minutes before turning it upside down on wire rack to cool down completely.

Serve this cake as it is or drizzle it with a glaze. Or, if you are feeling fancy then you can frost it with whipped cream or cream-cheese frosting.