Bhapa Sandesh is a variety of Bengali sandesh recipes where chena or cottage cheese is mixed with sugar and aromatics before it is steam-cooked. When served chilled, it is also known as Ice Cream Sandesh due to its creamy and rich texture.
Like many other Bengali sweet recipes, this bhapa sandesh recipe requires very few ingredients and can be made easily at home. It is gluten-free and nut-free (only used as a garnish which can be omitted otherwise).
In this article, I will give you multiple ways of making and serving this delicious Ice Cream Sandesh recipe.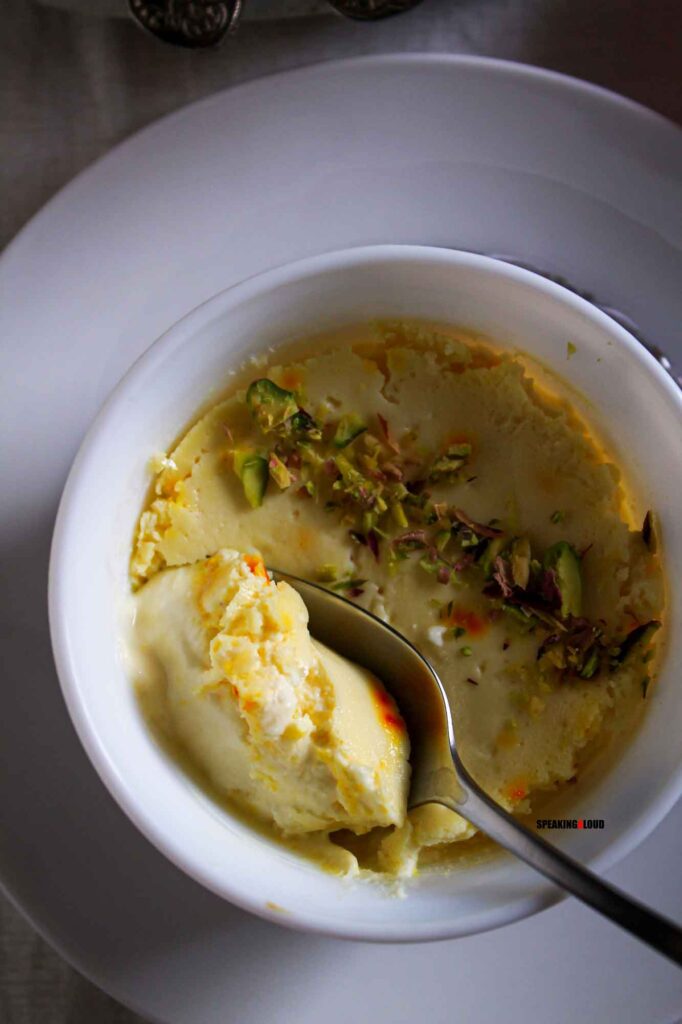 What is a Sandesh or Sondesh?
Sandesh is a very popular variety of Indian sweets, particularly found in the eastern states of the country, namely Bengal and Orissa. Its simplicity makes it immensely popular among sweet lovers.
The basic ingredient of a Sandesh recipe is chena or cottage cheese of cow's milk. Freshly churned cheese is mixed with a handful of other ingredients and then cooked to make hundreds of varieties of sandesh.
You can read more about the origin of the sweet 'sondesh' here.
This Ice Cream Sandesh recipe can be categorized as 'norompaak sondesh' or are soft serve and should be consumed fresh. As I wrote before, this bhapa sandesh can be served broadly in two ways, first one is steamed and then brought to room temperature before slicing and serving.
The second one is my favorite, which is chilling them for an hour before serving. The steamed cheese and cream get transformed into a creamy and luscious dessert.
Another favorite way of making and serving this dessert of Bhapa Ice Cream Sandesh is, in single-serve bowls meant for each of your guests.
I usually use my small ramekins for making Bhapa Sandesh in this way. These single-serve Bhapa Sandesh can be easily steamed in them and then served directly, no need to slice and chop. Simply count the serves and gather up an equal number of ramekins or bowls.
Now, let's see how to make this bhapa sandesh Bengali recipe at home. Let's start with the ingredient list.
Bhapa Sandesh recipe ingredients
Chena or Cow's Milk Paneer
Fresh Cream
Sugar
Saffron threads
Pistachio Nuts for garnish – optional
How to make fresh Chena from Cow's Milk?
For this, we are going to need half a liter of milk, i.e. 500ml of Cow's Milk and a lemon. Boil the milk and add lemon juice or vinegar till it separates. Go one tsp. at a time and stop when you can see the chenna/paneer/cottage cheese curdle leaving greenish whey beneath.
Line a sieve with cheesecloth and drop the content of the pan in it. Collect the ends of the cloth and tie it. Allow this to sit so that extra water drips below.
After 30 minutes or so, unwrap the cheesecloth take the chena or cheese out on a plate, and use it for this recipe. You can make the chena a day or two ahead and refrigerate it in an air-tight container.
Now, let's check out the different ways of steam cooking Bhapa Sandesh.
How to make Bhapa Sandesh on a stovetop?
If you are planning to steam them on a stovetop, you may use a steamer, pressure cooker, or a normal deep cooking pot. Simply prepare the recipe as instructed below in the recipe card and then pour it into a baking dish or any other heatproof dish like a stainless steel container, cake tin, or individual ramekins.
Cover the container or bowl with its lid or a clingfilm wrap. Now place it inside the steamer and steam it for 8-10 minutes on high flame.
If you are using a pressure cooker or a deep cooking pot, pour some water in it and bring it to a boil. then place a tripod in it and then place the container or a plate having the ramekins. Remove the weight valve of the pressure cooker. Place the lid and let it steam cook for 8-10 minutes.
How to make Bhapa Sandesh recipe in a Microwave?
Use a microwave-safe bowl or baking dish for this. Borosilicate baking dishes are perfect here. Pour the sandesh mix in it and then cover it with a clingfilm sheet. Poke a couple of holes in the sheet to allow the steam to escape.
Place the dish in your Microwave Oven and select the High Power mode (800W). Set the timer for 4 minutes and press start. Once done you will see that the edges of the pudding have pulled away from the baking dish.
If you think that the sandesh hasn't set completely in 4 minutes then continue to cook it for a minute or so, until it is completely set.
How to make Bhapa Sandesh in an Oven or Convection Oven?
Personally, I love to make Bhapa Sandesh in this way. It is an absolutely easy, fuss-free, and no-fail method. I use smaller ramekins to bake the Sandesh after placing them in a baking tray, half-filled with boiling hot water.
In this way, you can easily steam cook the bhapa sandesh Bengali recipe in a convection oven at 180C for 35-40 minutes.
Once the Bhapa Sandesh is ready, it's upon you how to serve. You can serve them just like that, or garnish them with some chopped nuts like I have done using some pistachio nuts, or chill them for an hour to serve them as Ice Cream Sandesh.
List of popular Bengali sweet recipes for you to try!
Here's a quick list of some of the most popular Indian sweets recipes from my blog
Have you tried this recipe? I would love to hear about it.
Tag me on Instagram @priyankabhattacharya.sa or Facebook @hashdiaries and I will share it further.
Bhapa Sandesh | Ice Cream Sandesh Recipe
Bhapa Sandesh is a variety of Bengali sweets recipe where chena or cottage cheese is mixed with rest of the ingredients and is steam cooked. When served chilled, it is also known as Ice Cream Sandesh due to its creamy and rich texture.
Keyword:
Bengali Sweets Recipes, Bhapa Sandesh Recipe, Gluten Free Recipes, Ice Cream Sandesh Recipe, Indian Sweets Recipes
Ingredients
500

ml

Cow's Milk

2

tbsp

Vinegar

¼

cup

Fresh Cream

4

tbsp

Sugar

A pinch of Saffron soaked in 2 tbsp Warm Milk
Instructions
Make Chena using Cow's milk and vinegar. For more details, read the blogpost.

Take a jar of the blender, add chena, fresh cream, sugar and the milk soaking the saffron. Add a couple of threads of the soaked saffron as well.

Now, blend it to make a smooth batter.

Pre-heat the oven at 180C.

Pour the mix in ramekins or one single baking dish. Garnish the top using the leftover saffron threads. Cover the individual ramekins or the baking dish with an aluminium sheet.

Place it on top of another bigger and deep baking tray and pour boiling water in it so that the sandesh dish or ramekins are half submerged

Now, bake it for 35-40 minutes or till they are set.

Take them out and allow then to cool before serving. Or, chill them to serve them as Ice Cream Sandesh.