Top side-dish ideas to pair with Luchis
Luchis or Bengali Pooris are traditional Indian unleavened flatbreads, which are rolled and deep-fried in ghee or clarified butter. A quintessential part of Bengali party menu, it is often paired with Niramish Aloo Dum, or if someone is feeling indulgent, then Kosha Mangsho or Bengali Mutton Pot Roast.

In this article, I have shared some of the popular side-dishes that are often paired with luchis. You will get several easy meal ideas for lunch or dinner, and their recipes along with.
The star of million celebratory festive menus, the perfect couple to 'Kosha Mangsho', the makeshift after-meal dessert with Sugar, the next morning's breakfast with a cup of cha! Oh! How could I forget the post-biyebari must of Luchi & Rosogolla'r Ros (syrup)? I know some of this might sound silly, but trust me when I say that Bengalis would have this with probably anything!!
How's Luchi different than Pooris?
So, there's always this question about how's luchi different than pooris. Bengali luchis are made out of All-Purpose Flour or Maida. The dough will be needed with a generous amount of ghee or oil, some salt and water. They are usually lightly fried so that they retain the white colour, without getting the brown spots.
Since there's a considerable amount of fat in the dough, they are usually crisper than pooris and they have a melt-in-the-mouth kind of texture.
How's Luchi different than a Bhatura?
Bhaturas are most often made with All Purpose Flour or Maida, with an occasional addition of Semolina or Sooji. They are kneaded with sour curd or yoghurt, which allows it to ferment. Bengali luchis are kneaded with plain water. Another difference is that Bhatura is usually bigger in size as compared to the luchis.
How to make Luchis or Pooris? Bengali Luchis Making video
What to pair with Bengali Luchis? Popular Luchi side-dishes.
'Luchi Tarkari' is a very popular term in Bengali cuisine. Here, the tarkari stands for the side dishes often served with luchi. Colloquially it would mean a vegetarian side dish and is often served for breakfasts. On special occasions like Durga Puja, Poila Boishakh or Jamai Sashthi, this humble luchi would be gloriously served with Kosha Mangsho or Bengali Mutton Curry.
This luchi is also served as 'bhog-prasad' to diety during puja ceremony. Here, it would be paired with vegetarian side dishes like Aloo Phoolkopir Dalna ( Bengali Aloo Gobhi or Potato-Cauliflower Curry) or Bandhakopir Dalna (Pattagobhi Sabji or Cabbage Stir-fry).
Here are some of the popular luchi side dishes for you to try:
Kosha Mangsho or Bengali Mutton Curry
If you wish to please a Bengali bhojon-rosik bhodrolok or bhodromohila (loosely translated into food loving guy or girl), then make some Luchi & Kosha Mangsho for lunch or dinner.
Kosha Mangsho Recipe | Bengali Mutton Curry Recipe
Kolkata-style kosha mangsho recipe, which is essentially a spicy dry goat meat curry, and serve it with some rice. If you want to take the game up by few notches then make the combination of luchi-kosha mangsho, and you would find the Bengali going weak at his knees.
Check out this recipe
Niramish Cholar Dal or Bengali Chana Dal
This cholar dal recipe is the 'queen' of Bengali vegetarian recipes, which can be found to be part of every menu. This best served with luchis or Bengali pooris. Cooking with a pressure cooker makes life much simpler. All you need to do is cook it till it whistles a few times and then temper it with a handful of spices to sort your dinner in the quickest way.
Bengali Chana Dal Recipe | Cholar daal
This Cholar Dal recipe is no-onion, no-garlic vegetarian recipe which is traditionally a Bengali breakfast dish. Completely Glutenfree & vegan lentil recipe
Check out this recipe
Aloo Chorchori | Bengali Potato Stew
We Bengalis hold our luchi aloo tarkari combination very close to our heart. No celebration is complete without a sacrilegious meal of deep-fried luchi or Bengali pooris and a simple stew of potatoes.
Did you know that every family has a different Bengali aloo chorchori recipe in their kitty? Yes, adding multitude to the Bengali cuisine, you would often find that Bengali families differ with each other in terms of the same recipes. This is how I make Aloo Chorchori in my kitchen.
Aloo Chorchori | Bengali Potato Stew Recipe
This Aloo Chorchori or Bengali Potato Stew recipe is simple, easy yet a comforting dish. Pairit with Luchi and you have a meal fit for the kings.
Check out this recipe
Niramish Aloo Dum or Bengali Dum Aloo
In Bengali day-to-day cooking, there are some recipe combinations which are almost sacrilegious to mess around with. This Luchi Alur Torkari is something similar to that. It's almost like if you think of luchi, either alur toraki or alur dom comes into your mind. This is a no-onion, no-garlic Bengali dum aloo recipe, which is also vegan, gluten-free, dairy-free and nuts-free.
Bengali-style Aloo Dum Recipe
This Aloo Dum recipe is one of the most popular Bengali dishes, often made on a repeat as a breakfast dish served with Luchis. It is a simple potato curry with a dry gravy made of ginger, tomato and a handful of spices & can be made within 30 mins flat.
Check out this recipe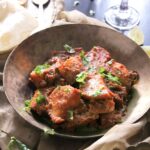 Kumro Chechki or Pumpkin Stir-fry
Internet is abuzz with a million niramish ranna dishes from Bengali cuisine. But very few are traditionally authentic. This was one of the major reasons why I got into recipe blogging in the first place. A chechki is a special type of stir-fry where veggies would be cut longitudinally and cooked in mustard oil and a choice of spices, without adding any water. This goes without saying that kumror chechki can be best experienced with luchis or Bengali pooris.
Bengali Kumro Chechki or Stir-fried Pumpkin Recipe
This Kumro Chechki Recipe is 100% straight out of Grandma's Recipe book. Ideally a Bengali Breakfast dish, it makes good as weekday dinner option as its quick, easy and hassle-free
Check out this recipe
Aloor Jhal | Bengali Potato Curry
This Aloor Jhal recipe is just perfect for those days when you are running low in terms of both time and energy. What if I tell you that there is no frying, no sautéing, or baking, or grinding involved in this recipe! Yes, and that's absolutely true. It is absolutely one-pot recipe which is done in flat 10 mins.
Traditionally, this meal combination is for breakfasts but this one is equally well suited for lunches or dinners.
Aloo Chorchori | Bengali Potato Stew Recipe
This Aloo Chorchori or Bengali Potato Stew recipe is simple, easy yet a comforting dish. Pairit with Luchi and you have a meal fit for the kings.
Check out this recipe
These are some of the traditionally popular side dishes paired with Bengali luchis. Apart from these, there's a number of Chicken recipes that can be paired as well.
There are some popular side dishes which can be paired with Bengali luchis as they are done with pooris.
Pin this article for later!