When Strawberry Comes in Surplus, Make This Strawberry Cream Cake
It has been a bumper year in terms of Strawberry harvest. Fruit stalls are booming with fresh and luscious Strawberry crop. Then why not bring together an easy and delicious, yet a showstopper dessert of Strawberry Cake. 
When I got going with this recipe, I went around looking for different types of Strawberry Cream Cake recipes. Then I stumbled upon Bløtkake, a Norwegian or Scandinavian layered cake with alternate layers of Victorian Sponge, Custard, fruit jam filling, whipped cream and chopped fruits.
Looking for Cake Recipes for Special Celebrations?
This Strawberry Bløtkake is an elegant cake, fit for grand celebrations. It soaks in the moisture and juices from the strawberry filling and gives a moist and fragrant cake.
This unpretentious looking jewel of moist Strawberry Fruit Cream Cake makes an amazing centerpiece on the dinner table and store very well, if you left with any leftovers!
Fresh Strawberry and Whipped Cream = Match Made in Heaven!
Already Strawberry tops the list of my favorite fruits. Add a dollop of freshly whipped cream, and I am all set to go into a food coma! This cake is the perfect example of how simply one can pull together a fancy looking dessert for weekend parties. 
This Strawberry & Cream Cake was my way of giving the plain-jane Vanilla Cake a glamorous makeover. All I did was grab a box of Strawberries and make a delicious coulis with it. Once I got going with the macerated strawberries to make the coulis, all that left to do was whip some fresh cream and start decorating my cake.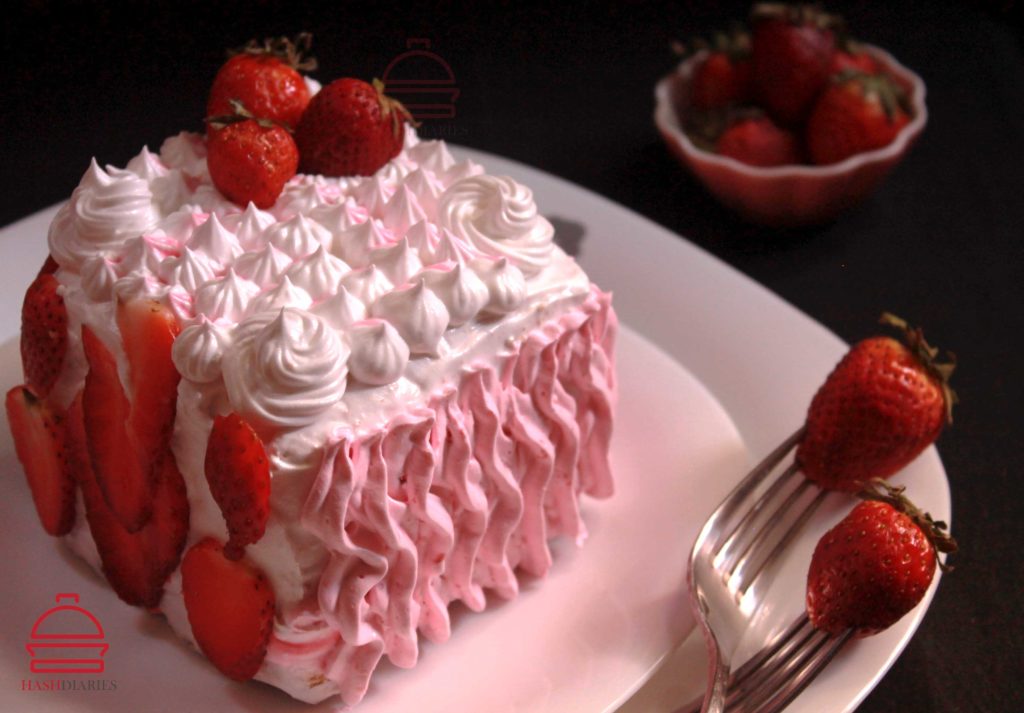 How to make fresh fruit Cake with Strawberries recipe at home. 
This Strawberry Cake is a great make-&-prep ahead dessert which can be 2-3 days before you plan to serve. So, essentially these are steps to make this delicious moist strawberry & cream cake:
Bake a simple Vanilla Sponge Cake and refrigerate it after wrapping it with a clingwrap. (2-3 days ahead)

Make a Strawberry Coulis and store it in a Tupperware. (2-3 days ahead)
Whip the whipping cream to stiff peaks and store it in a Tupperware. ( 1 day ahead)

Assemble the dessert on the day of serving. (2-3 hours before)
Homemade fresh Strawberry Cake Recipe
This  Strawberry Bløtkake is my version of Bløtkake where I have replaced the buttery rich Victorian Sponge Cake with my all-time favorite oil-based Vanilla Sponge Cake Recipe. Also, I skipped the part of making the Custard filling as I wanted to make it more creamy and luscious. 
To go ahead with this Strawberry Bløtkake dessert recipe, start with the Vanilla Sponge Cake. Recipe can be found in this link.
Rest of the Cake recipe is as follows:
Strawberry Bløtkake or Strawberry Cake Recipe
This Strawberry Bløtkake is an elegant cake, fit for grand celebrations. It soaks in the moisture and juices from the strawberry filling and gives a moist and fragrant cake.
Keyword:
Cake Recipes, Cream Recipes, Dessert Recipes, Strawberry Recipe
Ingredients
200

gma

Strawberry

Separate few for garnish

1/4

cup

Sugar

4

tbsp

Water

A pinch of Salt

1

tsp

Lemon Juice

1/4

cup

Chilled Whipping Cream
Instructions
Take a heavy bottom pan and add the strawberries, sugar, water, and salt. Now take a fork and macerate it while it simmers. Once the liquid gets thick and it becomes more like a sauce, that is, it isnt runny any more, turn off the heat. Add the lemon juice and allow this to cook.

Now, Whip the cream till stiff peaks with sugar and vanilla extract. Divide the cream in two halves.

Add a some of the strawberry coulis in one half of the cream and whip it a bit more.
Assembly of the Cake
Slice the cake in two halves using a serrated knife.

Place one half on the cake stand or serving plate and spread some of the strawberry coulis on it.

Take a part of the vanilla whipped cream and spread it on the coulis. Place the another half of the cake on this and repeat.

This time crumb coat the entire cake with the vanilla whipped cream. Chill till it firms.

Once it is chilled, decorate the cake with the strawberry cream and sliced Strawberry fruit.
** This article contains some affiliate links. These are products that I use and completely believe in its authenticity. If you make a purchase through this link, I stand to gain a commission from the affiliate marketeer, without any extra expense at your end.
Pin this Strawberry Cream Cake Recipe for later!