Say Yes! To Mushrooms For Its Health Benefits
We have been huge lovers of Mushrooms. It was only recently when we discovered how beneficial it can be for our health. On the top of everything it is very easy to make and has zero to very little wastage! So, if you are a fan of Mushrooms or would like to try once, this Garlic Mushroom Stir-fry recipe would be perfect.
Few days back when I shared this post on my Instagram, I got lot of queries on how good it is for us. I think many people have yet failed to appreciate this veggie and are quite unaware of the wonders of shrooms!
In winters, Button Mushrooms are very common and every other vegetable vendor can be found to be selling these. Normally they come in packs of weighing somewhere around 200 gms. I would say, a single pack like that would easily serve 2 persons of moderate appetite. Apart from this, there are a variety of Mushrooms available, some fresh or dried that can be prepared at home with much ease. I will share them in my following posts.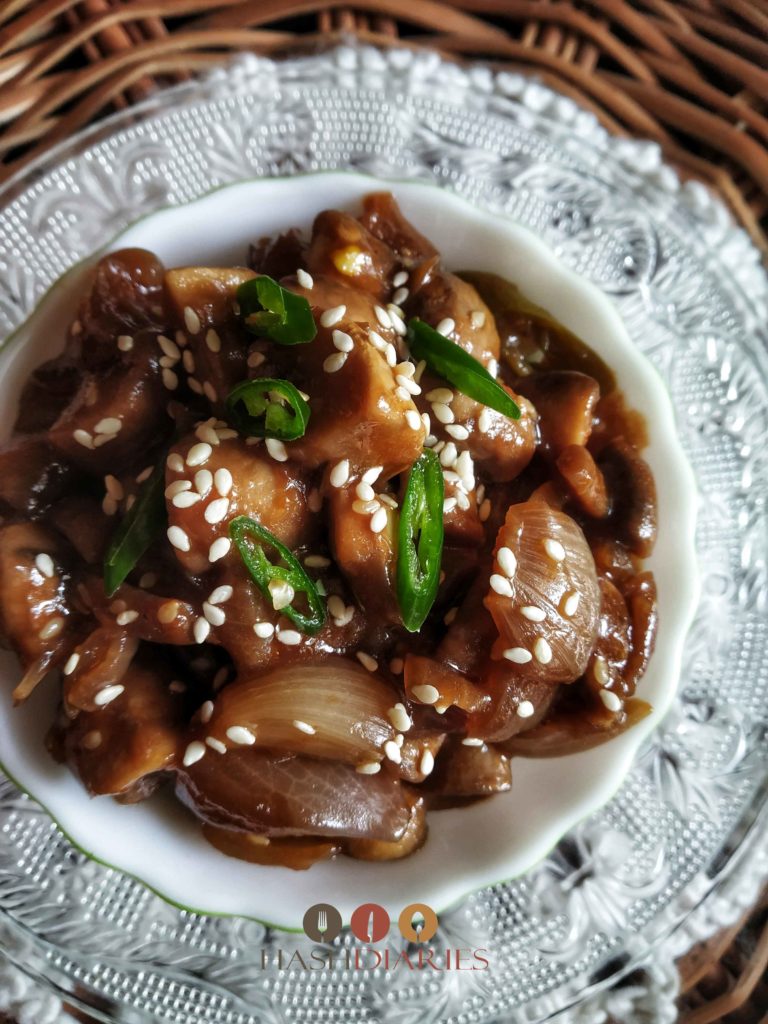 How to make Sesame-Garlic Mushroom Stir-Fry – Ingredients list
1 Pack Button Mushrooms – 200 gms. Approx
1 Onion – Large, Diced
8-10 Garlic Cloves – Finely Chopped
2 Green Chilies – Mildly Hot, Sliced
2 tbsp Soy Sauce
4 tbsp Ketchup
2 tbsp Barbecue Sauce – For Smokey Flavour – Optional
1 tsp Cornflour
4 tbsp Sunflower Oil
1 tbsp White Sesame Seeds
How To Buy Button Mushrooms?
Most of Mushroom packs in the supermarket have a date on them. Check for the freshest, not older than 10 days. If you are buying from your local vegetable vendor then see that the mushrooms are spotless and white. The stalks should be clean and white, and there should be no browning.
Once you get the mushrooms home, store them in the original pack in the refrigerator. It is best to consume them in the next couple of days.
How To Clean Button Mushrooms?
Most chefs or experts would say, "Do not wash Mushrooms. Just wipe them with a clean cloth and cook." Most of the times, I find packs of mushrooms quite clean, meaning without dirt sticking to the foot of the mushrooms. However, every once in a while, I receive packs that contain dirty ones.
I personally prefer washing them once before preparing them. So, discard the parts of the foot of the mushrooms which have turned brown. If any portion of the head also shows browning, then gently carve that part out. Once done, rest everything is completely edible.
Take a big bowl of cold water and dip these mushrooms in it. Gently scrub them with your fingertips and remove any dirt sticking to it. Take them out of the water and allow them to drain in a sieve. While prepping for the recipe, slice them and they are ready to cook!
Few more easy Mushroom Recipes from my blog
Now, let's have a look at the recipe.
Have you tried this Mushroom Stir-fry recipe? I would love to hear about it.
Tag me on Instagram @priyankabhattacharya.sa or Facebook @hashdiaries and I will share it further.
Sesame-Garlic Mushroom Stir-Fry Recipe
Grab a pack of Mushrooms and make this stir-fry for your lunch or dinner. Amazing side-dish for noodles and fried rice, can be paired with chapattis as well.
Keyword:
Mushroom Recipes
Ingredients
1

Pack

Button Mushrooms

200 gms. Approx

1

Onion

Large, Diced

8-10

Garlic Cloves

Finely Chopped

2

Green Chilies

Mildly Hot, Sliced

2

tbsp

Soy Sauce

4

tbsp

Ketchup

2

tbsp

Barbecue Sauce

For Smokey Flavour – Optional

1

tsp

Cornflour

4

tbsp

Sunflower Oil

1

tbsp

White Sesame Seeds
Instructions
Slice the Mushrooms lengthwise.

Heat oil in a wok or kadhai. Saute the Onion and Garlic till they turn transparent.

Add the Mushrooms and the Green Chilies. Toss everything well and allow it to cook on low flame. Cover the kadhai with lid.

Mushrooms will give out water. So, it will cook in its own liquid.

After 8-10 minutes, check if the mushrooms are cooked. use your spoon to cut a piece from the center. It should be a bit stretchy, otherwise soft.

Now, mix the sauces along with Cornflour and some water in a bowl. Pour it on the mushrooms. Mix everything well.

At this stage check for salt and add as per your taste.

Before serving sprinkle the sesame seeds on top.